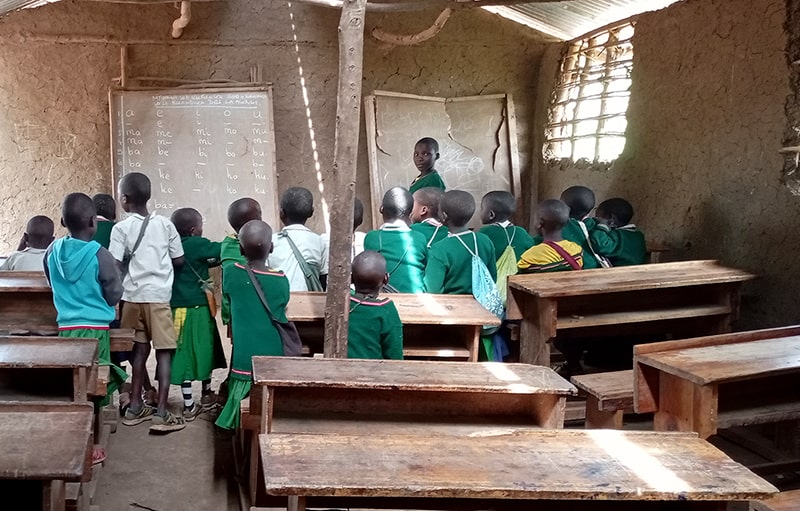 Juhudi Primary School
Accred OPS GmbH and Jambo Bukoba e.V:
A new classroom for Juhudi Primary School in Kyerwa District Council in Tanzania.
Accred OPS GmbH supports Jambo Bukoba e.V. in building a new classroom including equipment.
Juhudi Primary School has been singled out by the district government as a school in special need. The Juhudi Primary School is attended by 390 students (210 girls, 180 boys) and employs a total of 8 teachers. There are currently 6 classrooms available, i.e. one classroom for every 65 students.
The construction of the new classrooms will improve the classroom per student ratio from the current 1:65 to 1:49. In addition, the classrooms will be furnished according to government specifications and equipped with benches, for example.
For the students, this will be a big step towards a more conducive learning environment, as not only will additional space be created, but the quality will also be significantly improved with functional whiteboards and seating and writing facilities. This has been proven to promote attendance and thus the academic performance of the children.
Jambo Bukoba (JB) was founded in Germany in 2008. Since then, the organization has been improving the quality of education at elementary school in northwestern Tanzania, educating students about HIV/AIDS and promoting equal rights. JB is mainly responsible for fundraising, public relations and controlling.
In 2015, Jambo Bukoba received the startsocial Award from German Chancellor Angela Merkel for its successful work.
The Jambo Bukoba financing model, which is supported by Accred OPS GmbH, provides that the authority and the community each contribute to support the project costs. This creates a sense of responsibility and achievement among all parties involved. According to this principle, the Kyerwa district authority contributes 30% of the pure construction costs, the school another 10%.